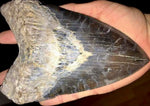 Megalodon Teeth from South Carolina: A Fascinating Look into Prehistoric Life.
Megalodon, the largest shark to ever exist, roamed the prehistoric seas millions of years ago. While they are long extinct, their massive teeth continue to captivate paleontologists and collectors alike.
One of the best places in the world to find megalodon teeth is along the coast of South Carolina. This area was once covered by shallow seas that were home to a variety of marine life, including the massive sharks.
Megalodon teeth can be found in a range of sizes, from small fragments to massive teeth that are over 7 inches long. These teeth are highly sought-after by collectors and can fetch high prices at auction.
In addition to their aesthetic appeal, megalodon teeth also provide valuable insights into prehistoric life. Scientists can study the teeth to learn more about the diet and behavior of these ancient creatures.
If you're interested in finding megalodon teeth, there are a few things to keep in mind. First, it's important to know where to look. The best places to search are in areas where rivers flow into the ocean, as this is where sediment tends to accumulate.
It's also important to have the right tools. A shovel, sifter, and snorkel gear can all come in handy when searching for teeth. And of course, it's always a good idea to seek permission before searching on private property or in state parks.
Megalodon teeth from South Carolina offer a fascinating glimpse into prehistoric life. Whether you're a collector, a scientist, or just a curious beachcomber, searching for these teeth can be a rewarding and educational experience.